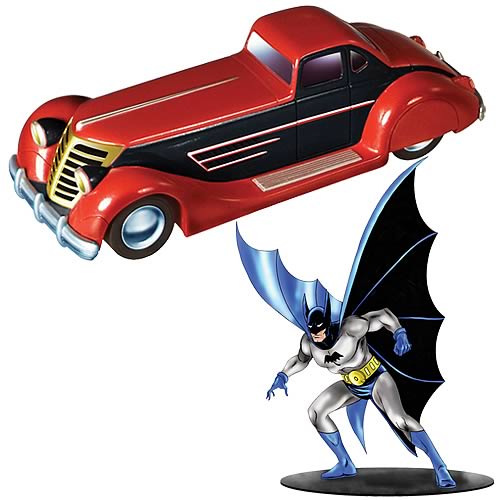 Batman 1930s Batmobile and Batman Figure
Holy classic superhero cars, Batman! Over the years, Bruce Wayne owned a lot of cars, and so did Batman! This unique Batmobile is modeled after its appearance in the 1930s, and features stylized lines and some very non-traditional Batman colors. While most fans will remember the vehicle of the Batman being blue or black, this particular release is red with black, gold, and white markings. In addition to the Batman accessory figure which stands about 4-inches tall, the car features opening doors and trunk. Limited edition of 1,500 pieces.
This series brings the coolest Batman vehicles to life with their famous owners! Each 1:43 scale car includes a spin-cast metal figure of Gotham City's most famous costumed residents. Each set includes a limited edition certificate of authenticity and a high-end packaging, perfect for displaying.